@AmyGoyer
@Teenascallan Sometimes humor is the ONLY thing that gets me through! My sister Linda has a great sense of humor an… https://t.co/yCzKozjpLm
@ThatVDOVault @drbarryjjacobs Thanks for sharing what has worked for you!!!
What do you do when you just can't do it anymore? Families still need help w/care, but many are afraid of… https://t.co/V7mKcmV18V
Two things that have carried me through the #stress of #caregiving for multiple family members. Laughter (Joy!) and… https://t.co/w7Tbq7QXL0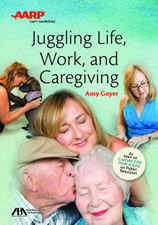 Like so many other family caregivers, I often place my own care on the back burner because I'm focused on the immediate needs of those I'm caring for. But that self-neglect eventually catches up with me — sometimes dramatically. I share one eye-opening experience in my new book, Juggling Life, Work, and Caregiving.