@AmyGoyer
So happy to discuss the fantastic free Respite Relief program for veteran & military family caregivers! An incredib… https://t.co/uyVWpets9p
@matt_perrin @AARP Thank you Matt!
@DrFeylynLewis Thank you Feylyn - for all you do and for your kind support - sometimes transparency can be difficul… https://t.co/RPk4wDogAY
@AARPadvocates I hope it will help other caregivers know they are not alone - the financial stresses of caregiving… https://t.co/BKBdd6jI8e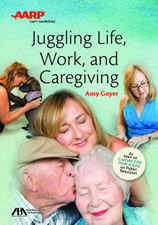 Like so many other family caregivers, I often place my own care on the back burner because I'm focused on the immediate needs of those I'm caring for. But that self-neglect eventually catches up with me — sometimes dramatically. I share one eye-opening experience in my new book, Juggling Life, Work, and Caregiving.