@AmyGoyer
Thank you @morgfair for the RT!
@ThomasRichmond @morgfair Thank you!
Building Confidence Around Using Helpful #Technology - my tips to help our loved ones (and ourselves) become more c… https://t.co/OXgZY7D2LL
RT @mariashriver: What a tragedy. Gosh, I'm so sorry. Will donate. Passing it on. @MarParNews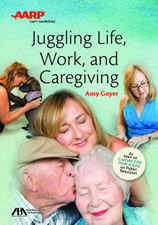 Like so many other family caregivers, I often place my own care on the back burner because I'm focused on the immediate needs of those I'm caring for. But that self-neglect eventually catches up with me — sometimes dramatically. I share one eye-opening experience in my new book, Juggling Life, Work, and Caregiving.