@AmyGoyer
@VASegovia You got it! Thanks for submitting your question - so many people have issues w/their siblings when… https://t.co/XPt2PBbWwB
@julio_gonzalez Thank you for making us *sound* good!!! Great to see you!
Friends Can Boost Health, Well-Being Among Older Adults https://t.co/4LtqvFSOgM #caregiving
Why Family #Caregivers Need a Tax Credit via @AARP https://t.co/vJKNuudHsC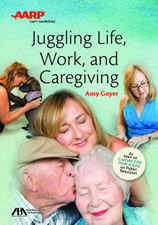 Like so many other family caregivers, I often place my own care on the back burner because I'm focused on the immediate needs of those I'm caring for. But that self-neglect eventually catches up with me — sometimes dramatically. I share one eye-opening experience in my new book, Juggling Life, Work, and Caregiving.