@AmyGoyer
@learnhospice Wonderful - thanks for the hug!
@RoamtheDomes Thank you so much Elaine - I have so appreciated your support. Such a terrible empty house here.
@IrisWaichler @amy Exactly...
@caregiving Thank you so much Denise - such a lovely thing for you to do and I feel all the love and warmth coming… https://t.co/aKgHfbvdG9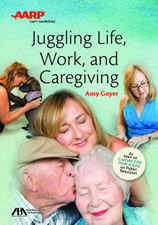 Like so many other family caregivers, I often place my own care on the back burner because I'm focused on the immediate needs of those I'm caring for. But that self-neglect eventually catches up with me — sometimes dramatically. I share one eye-opening experience in my new book, Juggling Life, Work, and Caregiving.