@AmyGoyer
Experts say these are the top types of food you should be eating to improve your brain health and to prevent… https://t.co/m1pLzU4J3r
TRUTH! https://t.co/QPx4g4ybfa
@RevAmyZ Happy to help Amy!
I fight for my loved ones AND for myself - we must all engage in caregiving issues now - it will be us receiving ca… https://t.co/ayFJWARiHm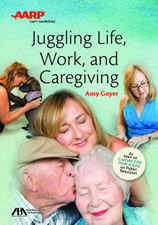 Like so many other family caregivers, I often place my own care on the back burner because I'm focused on the immediate needs of those I'm caring for. But that self-neglect eventually catches up with me — sometimes dramatically. I share one eye-opening experience in my new book, Juggling Life, Work, and Caregiving.