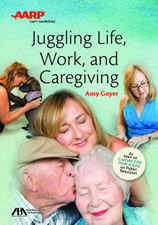 Like so many other family caregivers, I often place my own care on the back burner because I'm focused on the immediate needs of those I'm caring for. But that self-neglect eventually catches up with me — sometimes dramatically. I share one eye-opening experience in my new book, Juggling Life, Work, and Caregiving.
 

Juggling Life, Work and Caregiving

---

A staggering 42 million Americans face the challenges of caring for a loved one while working. Although caregiving can be a richly rewarding experience, the role comes with enormous responsibilities—and pressures. AARP's gentle guide provides practical resources and tips that are easy to find when you need them, whether you're caregiving day to day, planning for future needs or in the middle of a crisis. And equally important, this book helps you care for the caregiver—you. Author Amy Goyer, an expert in aging and families, provides insight, inspiration and her own poignant story as a live-in caregiver to her parents. 

 

Things To Do Now That You're... a Grandparent

---

Things to do now that you're...a Grandparent provides the newly appointed grandparent with 600 ingenious, fun and creative ideas to explore.

For most of us, news of a grandchild's impending arrival will send us into a dizzying array of emotions. Like other major events in our lives, no single emotion fits the bill.

How could it? The birth of a grandchild signals a new stage of your life - a new beginning. There are so many different ways to be involved in our grandchildren's lives - and it is up to us to choose the ones we are most comfortable with.