@AmyGoyer
Looking forward to moderating this panel at the @MilkenInstitute #MIHEALTHSUMMIT this Thursday afternoon!… https://t.co/U7Z4vDAGo6
Here are some of my top #caregiving tips to ease stress and make navigating the #holidays more doable: "10 Tips for… https://t.co/3Q2Feu2MQm
RT @Saramerwin1: Important & useful info for #caregivers re documents from @AmyGoyer Cc:@mindingourelder @theCGspace @CaregiveWarrior
@6secondsintime @TODAYshow @AARP I'm so sorry it's such a difficult process!
Details

Category: Caregiving Caregiving

Published: 26 October 2015

26 October 2015
Let's face it: Getting out and about with a loved one who has cognitive or mobility challenges can be a logistical nightmare. The equipment, timing and transportation mishaps are often a comedy of errors — like the time I left the trunk wide open for two hours after retrieving Mom's wheelchair, or when Dad, who has Alzheimer's disease, spits his food on the floor at a restaurant. Despite the headaches, I've remained determined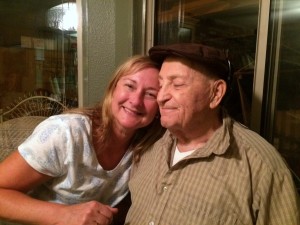 When I tell people I'm caring for my 91-year-old dad who has Alzheimer's disease, they look at me sympathetically and say, "I don't know how you do it." When they learn that I also cared for my grandmother when she had Alzheimer's, they gingerly ask, "Are you afraid of getting it yourself?"
Well, yes, actually. I'm terrified.