@AmyGoyer
@learnhospice Wonderful - thanks for the hug!
@RoamtheDomes Thank you so much Elaine - I have so appreciated your support. Such a terrible empty house here.
@IrisWaichler @amy Exactly...
@caregiving Thank you so much Denise - such a lovely thing for you to do and I feel all the love and warmth coming… https://t.co/aKgHfbvdG9
Details

Category: Caregiving Caregiving

Published: 26 October 2015

26 October 2015
Let's face it: Getting out and about with a loved one who has cognitive or mobility challenges can be a logistical nightmare. The equipment, timing and transportation mishaps are often a comedy of errors — like the time I left the trunk wide open for two hours after retrieving Mom's wheelchair, or when Dad, who has Alzheimer's disease, spits his food on the floor at a restaurant. Despite the headaches, I've remained determined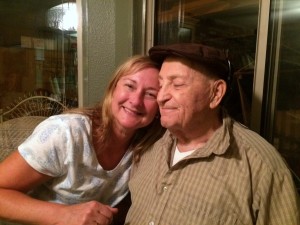 When I tell people I'm caring for my 91-year-old dad who has Alzheimer's disease, they look at me sympathetically and say, "I don't know how you do it." When they learn that I also cared for my grandmother when she had Alzheimer's, they gingerly ask, "Are you afraid of getting it yourself?"
Well, yes, actually. I'm terrified.